Program
ACADEMICS STREAM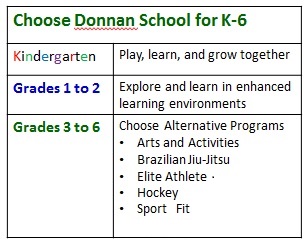 Students enrolled in Kindergarten work on developing early literacy and numeracy skills as well as the following topics: environmental and community awareness, citizenship and identity, personal and social responsibility, physical skills and well-being, creative expression.
Grade 1 and 2 students have regular curricular programming in the subject areas of Language Arts, Math, Social Studies, Science, Health, Physical Education, Art and Music.
Students in grade 3-6 who choose not to enroll in Sports Alternative programming will have similar programming except for grade 4 and up who also have French.
Students enrolled in our sports alternative programs do not participate in Art or Music.
We are a school first and foremost and academics are extremely important. Students enrolled in sports programming need to maintain academic standards in order to participate fully in sports programming.
SPORTS PROGRAMS

‌
Imagine waking up, being excited to go to school, focusing on your academics for half of the day, knowing you can devote the other half to your athletics!
Donnan School is designated as a Sports Alternative School for Edmonton Public Schools. The school provides programming for students as the community school for the King Edward Park area in Grades K to 6. The Sports Alternative program at Donnan provides academic programming for Grades 3 to 6 students.
Besides the Sports Alternative program, we also have an Elite Athlete program that supports athletic endeavors allowing aspiring athletes a flexible schedule for training/competition time away from school.
We have structured our school schedule so that all the core subject areas (Language Arts, Math, Science, Social, French) are taught in the morning. The afternoons are left for the students to train or compete. Should an athlete need time off for competitions, our teachers are supportive and assist the athletes to meet their academic needs.
For more information on general sports programming, please contact our Sports Liaison, Mr. Kevin Peters, at (780) 466 - 8573 Ext. 221 or email Kevin Peters